Certified Privacy and
Data Protection Officer
The  Certification in Basics of Information Security (CBIS) is a 6 week / 12 session program for every individual who aspires to kick-start ones career in cyber security.
Gain skills to win entry-level positions in Cyber Security Operations!
Overview
Course Outcomes
Eligibility
Who Should Attend
Overview
Data Privacy deals with controlled collection, usage, sharing, storing and
transmission of data. It even calls for validity and procedures to discard a given data.
Data Protection is all about protecting data against unauthorised access,
modification, replication, misuse or destruction. It suggests methods to provide adequate protection in the forms of data restoration, recovery of data to a functional state.
Participants who possess basic computer knowledge, IT & ITES professionals, Cyber Lawyers, Cyber Auditors, Cyber Incident Professionals, and faculty members teaching new and emerging technologies will have a pragmatic view of Privacy and Data protection.
Course Outcomes
Eligibility
Who Should Attend
The Cyberverse Advantange
Immerseive Online Classes
+
Cybersecurity Lab Facility
Format:
Instructor-Led, live online.
Interest Free EMI Facility available on request
Application Deadline :
One day before the start date of class every month
Week 1
Week 2
Week 3
Week 4
Week 1
Definition of Privacy
Privacy Evolution and the current status
Privacy Qualifier to find out a privacy requirement for an organization
Various Privacy frameworks (Eg: Indian DP Bill, HIPAA and other contemporary regulations) in the industry and the comparison
Privacy Impact Assessment in an Organization
Week 2
Week 3
Week 4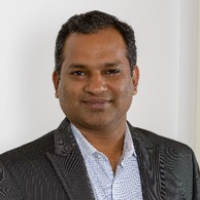 A highly accomplished security professional and trainer backed with academic qualification such as B.C.A, M.Sc. Cyber Forensics and Information Security and M.B.A in Systems. He has also completed a Post Graduate Program in Artificial Intelligence and Machine Learning from University of Texas, Austin. He holds Global Industry certifications like OCEG GRCP, OCEG GRCA, CISA, CISM, CISSP, ICCSG, CIPT, CEH, SCNA, CPISI(PCI-DSS), ITIL, CCSE, CCSK, AWS Cloud Solution Architect Associate and ISO 27K Lead Auditor.
Backed with strong corporate engagements involving implementations and operations, he conducted various security training programmes for all ranges of audience, aspiring students to top executives.