Basics of
Information Security
The  Certification in Basics of Information Security (CBIS) is a 6 week / 12 session program for every individual who aspires to kick-start ones career in cyber security.
Gain skills to win entry-level positions in Cyber Security Operations!
Overview
Course Outcomes
Eligibility
Who Should Attend
Overview
The Certified Basic Information Security (ICBIS) program is designed to equip students, and professionals aspiring to start a technical career in cyber security or learn secure coding. This is a foundation technical program that is considered essential to launch into the exciting world of Cyber Security.
Students, Individuals who possess basic computer knowledge, IT & ITES professionals, Cyber Lawyers, Cyber Auditors, Cyber Incident Professionals, and faculty members teaching new and emerging technologies will have a pragmatic view of security operations.
Course Outcomes
Eligibility
Who Should Attend
The Cyberverse Advantange
Immerseive Online Classes
+
Cybersecurity Lab Facility
3 PM – 7 PM
1st – 2nd October 2022
8th – 9th October 2022
15th – 16th October 2022
22nd – 23rd October 2022
29th – 30th October 2022
05th – 06th November 2022
3 PM – 7 PM
12th – 13th November 2022
19th – 20th November 2022
26th – 27th November 2022
3rd – 4th December 2022
10th – 11th December 2022
17th-18th December 2022
Interest Free EMI Facility available on request
Application Deadline :
One day before the start date of class every month
Week 1
Week 2
Week 3
Week 4
Week 5
Week 6
Week 1
Definitions of Cyber Security and Information Security
Common Terms used in Cyber Security
Cyber Security Structure in Organization
Security Layers and Vulnerability
Malware and its various Types
Week 2
Week 3
Week 4
Week 5
Week 6
Hands-on with Cyberange Virtual Labs
Get 60 Days access to Cyberange Virtual Labs for hands-on practice:
Penetration Testing Labs
Social Engineering Labs
Malware Labs
Cyber Forensic Labs
Password Cracking Labs
Bug Bounty Labs
Learn cyber security basics practically with your Instructor with our cloud labs!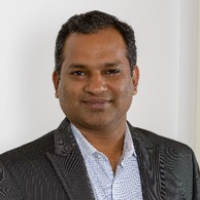 A highly accomplished security professional and trainer backed with academic qualification such as B.C.A, M.Sc. Cyber Forensics and Information Security and M.B.A in Systems. He has also completed a Post Graduate Program in Artificial Intelligence and Machine Learning from University of Texas, Austin. He holds Global Industry certifications like OCEG GRCP, OCEG GRCA, CISA, CISM, CISSP, ICCSG, CIPT, CEH, SCNA, CPISI(PCI-DSS), ITIL, CCSE, CCSK, AWS Cloud Solution Architect Associate and ISO 27K Lead Auditor.
Backed with strong corporate engagements involving implementations and operations, he conducted various security training programmes for all ranges of audience, aspiring students to top executives.