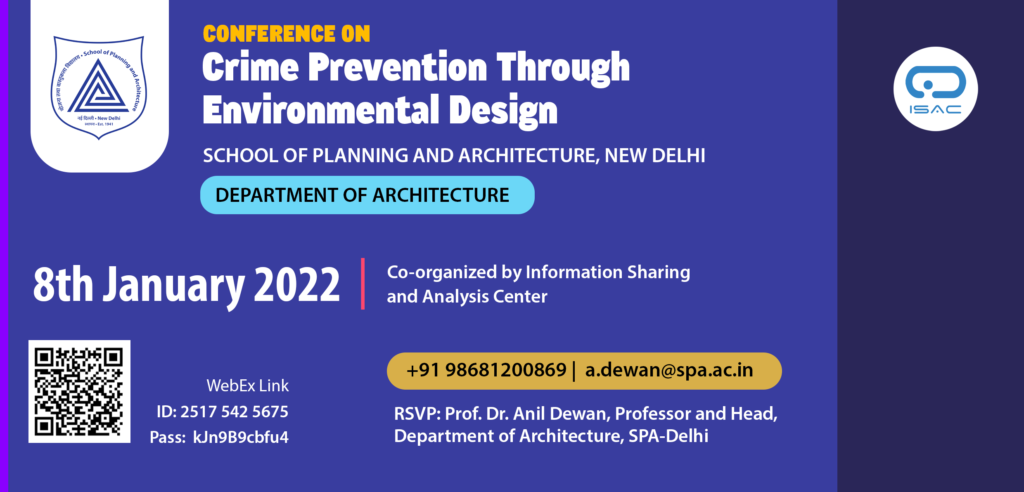 The School of Planning and Architecture, New Delhi (SPA-D) and Information Sharing and Analysis Center is hosting the annual conference on Crime Prevention through Environmental Design (CPTED) on the 8th January 2022.
Praesent at scelerisque felis. Integer tempus nec magna vel molestie. Curabitur finibus augue id ultrices ultrices. Praesent dictum in est id efficitur. Pellentesque imperdiet aliquet tortor id mollis. Etiam id odio quis nisi feugiat elementum. Maecenas sit amet porttitor metus. Etiam elementum tellus a odio elementum fringilla.
Duis interdum, mauris nec porta hendrerit, eros eros auctor lacus, sit amet luctus turpis enim gravida sem. Duis a felis elementum, pharetra enim id, gravida sem. Proin sagittis, massa ut euismod rutrum, massa ex eleifend nisl, sed pharetra velit est eget lectus. Maecenas ut enim dictum, placerat arcu vel, rhoncus massa. Proin lorem tellus, pretium ac lectus a, dapibus fringilla diam. Nullam vitae libero imperdiet, tempor ligula sed, semper purus. Nullam vitae euismod leo. Quisque interdum consectetur metus, in laoreet ligula tincidunt maximus. Morbi sit amet maximus nulla. Vestibulum ornare fringilla nibh sit amet rhoncus.